How I experienced my first months at FlowFactor
28 May 2020
Johan Janssen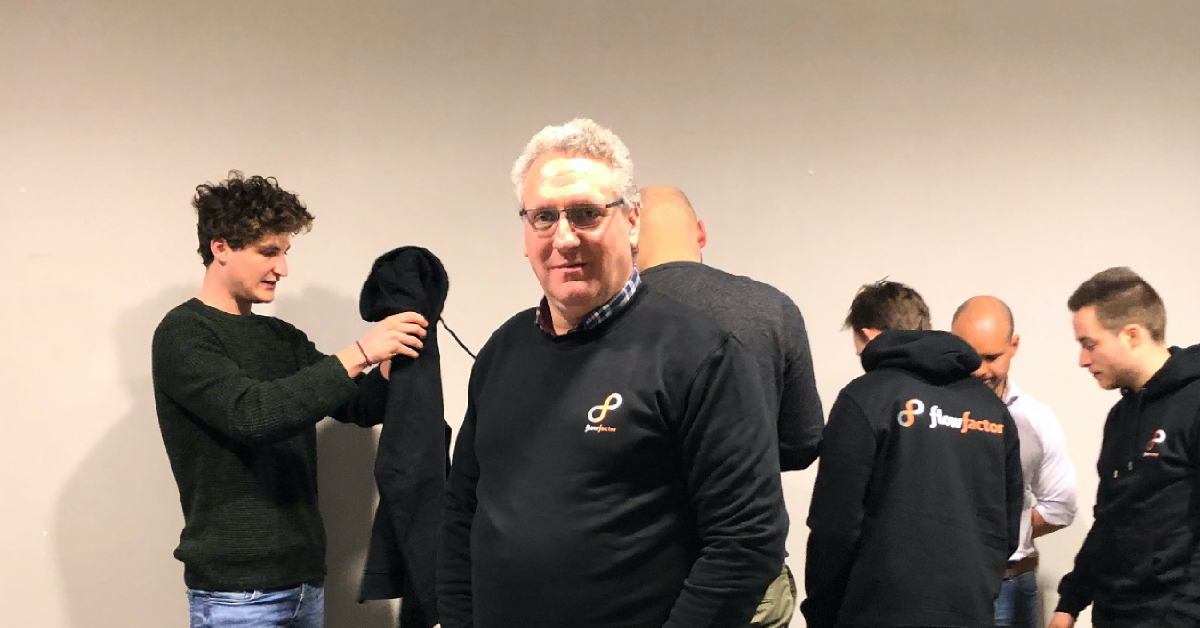 In the past, people asked me often what I love about my job, whether I like my projects and why I've chosen to work for that specific company. However, most of the time I didn't want to answer these questions as I didn't want to sound as an advertisement. But now, I am actually at the point I am able to answer these questions sincerely!
How I ended up at FlowFactor
Several factors played an important role in my choice for FlowFactor. First of all, FlowFactor gives me the right challenges I need, both technically and personally. In addition, they are part of the Cronos Group. I've worked with people from the Cronos Group in the past and I was always surprised at how satisfied these people are with their jobs. I also worked together with a Cronos Group company a couple of years ago, which was a really nice experience!
I got in touch with FlowFactor after a Cronos Group employee recommended them. When I threw a look at their website and read the job offer, I was immediately excited! After applying, the critical part came: the job interview. The first interview made such a good impression on me that I already made the decision for myself that if they wanted to hire me, I wouldn't hesitate for a second to accept the offer! Why was I convinced so quickly?
During the first interview I got the feeling that they offered me the opportunity to join a group of people who are not just colleagues, but a close group that could become a second family. The second interview came very fast after the first one, as they were aware of the fact that another candidate company expressed their interest in me. Because the second interview followed soon, it really gave me the feeling that FlowFactor was the way to go for me. The second interview I did with FlowFactor had the same impact on me as the first interview, which confirmed my feeling.
Since then, I can tell you that all my expectations are met. For example, every month they organize a training day. As there was one planned before I officially started at FlowFactor, they immediately invited me to join the training day as part of the team! This was a really great chance to meet my future colleagues and to get to know their way of working. Also, my first days at FlowFactor showed me the strength of the group and how they truly form a family as I started during a tough period caused by the Covid-19 crisis.
My projects at FlowFactor
But enough talked about my prestart at FlowFactor! Let's now focus on my projects. FlowFactor positioned me as an extra member of the Middleware Team at LCM.  During my first onsite talk with the Manager at LCM, I was very impressed about the opportunities they were able to offer me. It became immediately clear I would have many chances to grow my skill set. And it still is a very good match! This project will offer me tons of new challenges which are not just based on my previous experiences, but also offer me the chance to expand my knowledge on completely new products.
During the time I am now working for LCM, I have learned many new things and I am improving my knowledge every day.  The team at LCM is also very good to assist me in case I have questions about.
How I experienced my first 3 months at FlowFactor
I don't want to sound like an advertisement, but I'm almost sure it will. My first three months at FlowFactor showed me that it really can be different compared to my previous professional experiences. Even during the Covid-19 crisis, they put much effort in bringing the team together on regular basis.
For example, they organize almost every week an after-hour video conference for the team to have a virtual drink together. Another big plus are the training days they organize as I mentioned before. This 1-day event not only brings the team together, it also focuses on knowledge sharing. And yes, even during this Covid-19 lockdown these training days are still organized! Also, the management is very dedicated and easily accessible. They really involve the team and listen to everybody's opinion to make the company better.
Last but not least: the team. Even though I only met them once in real life, I can say they are a close group each with their own strengths and weaknesses. But as far as I noticed very helpful to each other.  In my complete career, working for different companies I can honestly say lots of companies can learn from FlowFactor on how to manage and keep a team together.
My start at FlowFactor really takes my life and career to a next level. If you have a chance to join this team, I can only suggest you: go for it!
Interested in a job or internship at FlowFactor? Check out our current job offers and let's talk!