11 August 2020
Joachim De Groot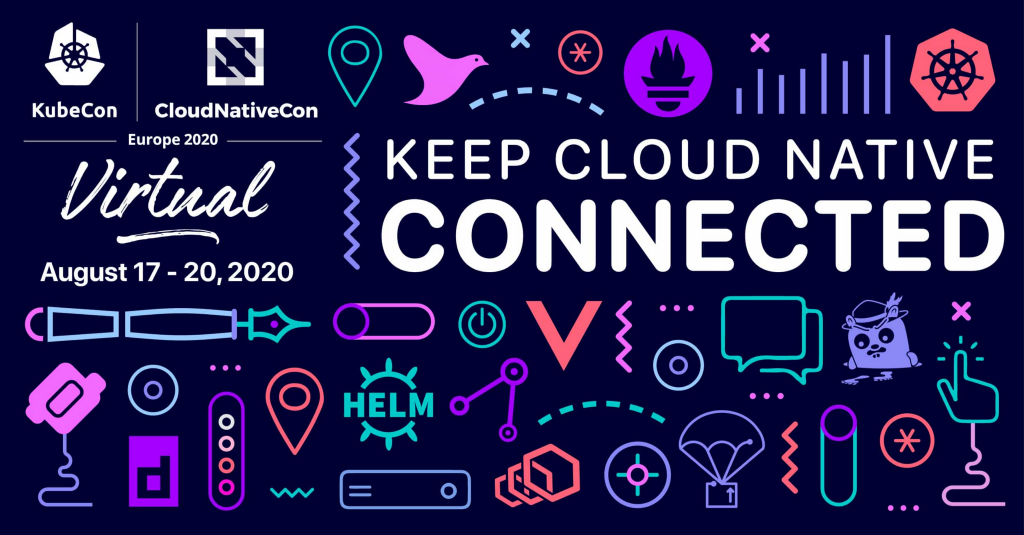 For those of you who don't know KubeCon, I will start by giving a brief explanation about what KubeCon (+ CloudNativeCon) is. The Cloud Native Computing Foundation, also known as CNCF, is one of the best-known foundations revolving around ecosystems, communities and everything else Cloud Native. The Linux Foundation is the parent foundation and CNCF is the organizer of KubeCon.
KubeCon is the largest conference revolving around Kubernetes (probably the most known and used container orchestration tool). The conference is attended by mainly tech companies that are already working with the tool or companies that would like to show their Kubernetes plans. This year, KubeCon will be held from the 17th till the 20th August, and they have something extra in store! Visitors will be able to attend the keynotes and expo hall for free. This way, a full expo pass only costs 75$ instead of the much pricier $1000 entrance fee.
A whole new online concept
The conference was originally planned from March 30th until April 2nd. However, due to COVID-19, the event was postponed until August. Later it was decided (given the current circumstances) to organize a virtual conference this year using the InXpo virtual event platform. This platform enables attendees to still network face to face, as for some people this is indeed the main reason to attend the conference. There will be even a hallway track, lounges, a virtual sponsor showcase and added gamified aspects! Visitors will be able to earn points and win prizes by attending keynotes, visiting sponsor booths and answering Trivia questions. All keynotes will be available online soon, so you don't have to miss anything. They are even promising more virtual goodies!
This year is the second year in a row that we will be attending KubeCon with Flowfactor. Last year, three of my colleagues went to KubeCon Barcelona. Afterwards, they enthusiastically shared their thoughts and learnings with the team. It all sounded very interesting and informative, so I was immediately excited to join the conference in 2020! At FlowFactor, all employees get the opportunity to follow courses or attend conferences to broaden their horizon and keep on learning. This was definitely an opportunity we couldn't miss out on!
My opinion on a virtual conference
While I'm writing this, we still have 16 days to go until KubeCon EU virtual. To be honest, I'm going to participate with mixed feelings. I have heard a lot of awesome stories about KubeCon, for example about the massive expo hall, the many sponsors and the seemingly endless choice of different keynotes. Some things (like the keynotes) are still going to be there, however I'm not sure if the feeling is going to be same when attending a virtual conference instead. It is also still a mystery to me how the virtual sponsor showcase and expo floor is going to look and feel like. Sadly, huge conferences with people from all over the world are not possible for the moment, so let's hope that the global situation will be a bit brighter next year. If I get the opportunity, I will definitely attend!
Would you like to join me during the next KubeCon conference? Are you interested in a position at FlowFactor, the company that gives their employees the chance to keep on learning? 
Join us!