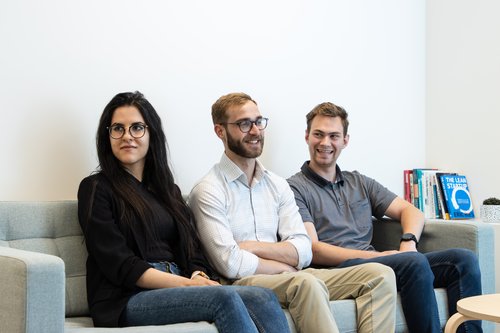 Blogs
Our First Year at FlowFactor: A Journey of Growth and Opportunity
Our First Year at

FlowFactor

: A Journey of Growth and Opportunity
30 June 2023
Jessica Verlinden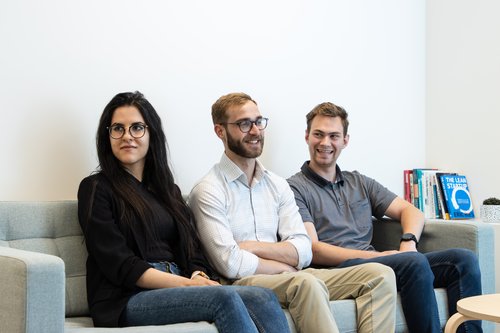 At FlowFactor, we're always looking for new talent to join our team of DevOps experts. About one year ago, we welcomed three new members: Lana Sakkoul, Miguel Lose, and Jonathan Bernaerts. Since we were wondering how they experienced their first year at FlowFactor, we decided to sit down for an interview. We discussed how they ended up at our company, why they decided to join us, what they've worked on already, and how they look back at this period. Let's get started! 
How did you end up at FlowFactor?
Lana and Miguel: We joined FlowFactor as interns while studying at HoGent. After completing our internships, we decided to stay. It has been an enriching experience working here for the past year, surrounded by supportive colleagues and engaging projects.
Jonathan: Although my original internship plans fell through, I connected with FlowFactor through a project presentation during my education, and I stayed in touch. The company's dedication to technology and their welcoming approach made me eager to pursue an internship here.
Why did you choose FlowFactor?
Lana: Their commitment to individual growth and wellbeing really stood out during my internship. They provide great support and coaching, not just in technical matters, but also in personal development. We were also involved in all team activities and dinners and treated as regular employees. I quickly decided that I wanted to keep working here.
Miguel: For me, it's the combination of advanced technology and the supportive atmosphere. Here, I'm not just a number, but I'm regarded as an individual with potential. Their specialisation in Kubernetes and DevOps piqued my interest. Just like Lana, I knew it was the right fit for me after getting to know the company better.
Jonathan: Despite not experiencing FlowFactor during my internship, I quickly felt welcomed by the entire team. The company's openness and dedication to collaboration, along with the opportunity to work with cutting-edge technologies, made FlowFactor an obvious choice for me. I felt like it would be the perfect place to hone my technical skills.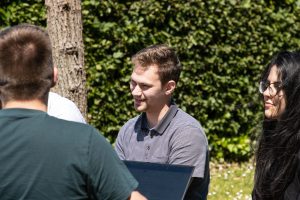 What are you currently working on in your projects?
Jonathan: I'm focusing on setting up a new environment for a client, leveraging CloudFormation, Pulumi, and Terraform on AWS. It's been a challenging project as a junior, but with the support of both FlowFactor and the client, I'm successfully adapting and fine-tuning the codebase.
Lana: I'm also setting up a new environment on AWS. While I only had experience with IBM Cloud and Azure, FlowFactor gave me the time and resources I needed to research and learn. It's exciting to explore new technologies and environments, and I appreciate the variety of tools to work with.
Miguel: I'm currently finishing up a previous project involving infrastructure, pipelines, and a Kubernetes cluster on OpenShift. Additionally, I'm supporting a large-scale advertising campaign for a multinational company. The opportunity to work on ambitious projects like this and the freedom to explore and contribute are incredibly fulfilling.
How does FlowFactor support you in your growth?
Lana: They provide a lot of supervision and guidance, which has been really helpful in my professional development. We can always ask something on Slack or set up a meeting with colleagues, even when working remotely. FlowFactor genuinely invests in our growth and supports us in achieving our goals.
Jonathan and Miguel: The initial soft skills training and continuous learning opportunities have been invaluable. From communication styles to consultancy training, they have equipped us with essential skills not typically emphasised in our Computer Science education. For example, the consultancy training taught us how to handle problems at a client's site, how to give feedback, what the general rules are in consultancy, how to analyse what the client needs, and other invaluable skills.
What have you learned from your projects so far?
Jonathan: I've realised the importance of adaptability and the need to navigate through legacy systems when introducing new technology. Working alongside experienced colleagues has taught me the value of their insights and the significance of learning from past mistakes. It's a continuous learning process, and I'm grateful for the growth opportunities.
Lana: I've learned that mistakes are not setbacks, but valuable learning experiences. I now know that documenting changes and emphasising the importance of backups and licenses to clients are crucial aspects of making sure that a project keeps running smoothly. Communication and thoroughness are key, both internally and with clients.
Miguel: I agree with Jonathan: having a senior present on projects is invaluable. I've come to understand the importance of methodologies like Scrum and Kanban and open communication. As DevOps consultants, I think that we've all noticed the difference it can make on a project's pace. We also got more responsibility entrusted to us as juniors than I expected, and this has accelerated our learning curve and instilled confidence in our abilities.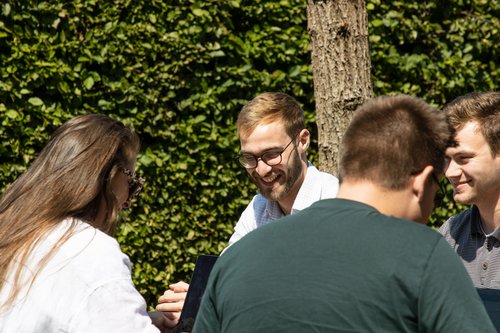 How do you look back on your time at FlowFactor?
Miguel: I'm really happy that I decided to join FlowFactor. The positive work atmosphere, the camaraderie with colleagues, and the opportunity to explore a wide range of technologies make it a fantastic company to work for. I'm grateful for the support and flexibility that they offer, both in working hours and preferred tasks. For example, I decided to join the managed services team so I could get to know as many technologies as possible before choosing what I want to specialise in.
Jonathan: Despite not having an internship experience, FlowFactor quickly made me feel like part of the team. The genuine openness and connections formed with colleagues extend beyond work. For example, I recently met up with my colleagues to run the Antwerp Ten Miles together. Johan and Kilian, the managing partners, are also down to earth, which really makes FlowFactor a really nice place to work.
Lana: Reflecting on my time at FlowFactor, I'm amazed by the level of support and encouragement that I've received. Their commitment to investing in our growth, both professionally and personally, is truly exceptional. I feel valued, heard, and continuously challenged to excel. I'm excited to see where this journey will take me next!
Want to join Miguel, Jonathan, Lana, and the rest of the team? Check out our careers page!