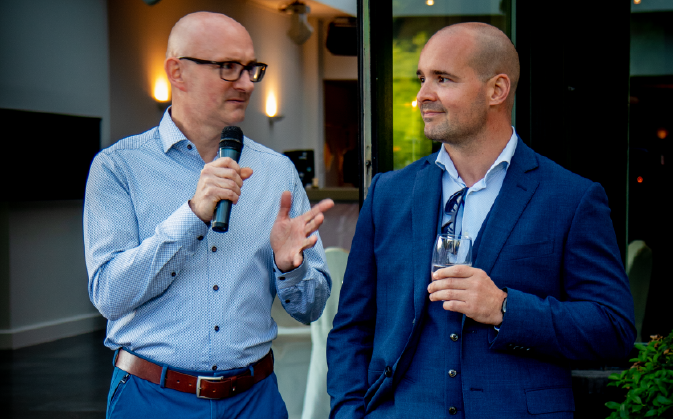 DevOps, People
FlowFactor: Five Years of DevOps Experience and the Future Ahead
FlowFactor: Five Years of DevOps Experience and the Future Ahead
28 June 2022
Jessica Verlinden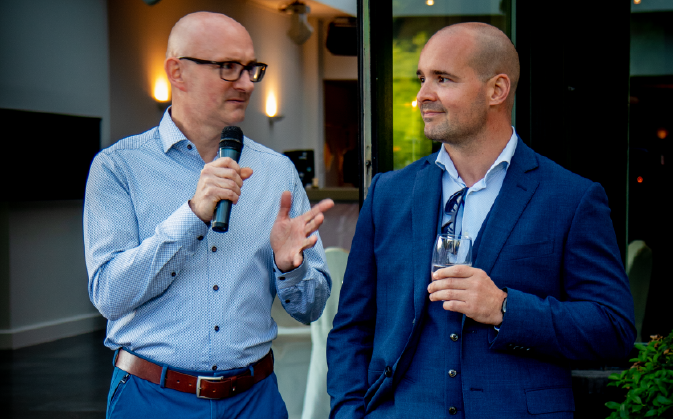 It's hard to believe it's been so long already, yet here we are:  FlowFactor is celebrating its five year anniversary! Therefore it was due time we sat down with founders Johan Janssen & Kilian Niemegeerts to have a little retrospective. Though we covered everything from conception stories to future vision, a clear line emerges when talking with the two founders. Or as Kilian would summarize: "though there are differences, we're essentially still the same company with the same mission as when we started."
Origin Stories
We start our story at the very beginning with a classic DevOps fairytale: 
Kilian: "I come from an infrastructure background, and I was initially contacted to set up an Operations wing to support Cronos' software development ventures. I distinctly remember though that the guy hiring me was already using a term that was still quite rare at the time: DevOps."
Johan: "Meanwhile I joined Cronos about a year earlier wanting to do something with application managed services. I felt the need for an integrated DevOps approach from the application side, so it didn't take long at all before we were put together in a meeting room, and that's pretty much how FlowFactor started!"
Kilian: "We started out with a pretty limited team, and the idea was basically to borrow the lonely infrastructure specialists from other Cronos development companies. Initially, we were completely IBM focused because that was pretty much our entire talent and customer pool at the same time. From the beginning though, our plan has always involved growth, and team development was one of our most important factors."
Johan:"We strongly believe in giving our employees the time, tools and support to expand their skillset. We're always looking for people who are excited to learn new things and spread their knowledge to the rest of the team. For me, internal knowledge sharing is one of the most important sources of growth for FlowFactor and the main reason we now support a wide variety of environments – cloud, local and hybrid."
Common Purpose
DevOps has come a long way in the past five years, and we asked our founders about some of the biggest changes they've seen in the world of DevOps.
Kilian: "The first big change was DevOps actually becoming mainstream. When you look at most large companies today they are all doing DevOps in one form or another. Most companies though try to implement DevOps as some kind of overnight solution, fail, and then give up entirely. DevOps isn't something you can just do because your competitor is doing it – it's a cultural change that requires time and effort!"
Johan: "I agree that DevOps has matured a lot in the past five years. It's no longer a question of if you should do DevOps, but how you should do it. There is a lot more thought going into it now, and people have realized that it's not just about throwing some tools together and calling it DevOps."
After talking for a bit about the nature of DevOps, the conversation shifts to the changes within FlowFactor itself. Both founders stress how they always stuck to their founding principles, and how FlowFactor has mainly evolved bottom-up. 
Johan: "Over time, we've watched our first engineers evolve from rookies to experienced senior DevOps engineers. They are now serving as experienced mentors and guides for both our clients and the rest of our team. "
Kilian: "At FlowFactor, we believe in the power of junior engineers. Our customers are sometimes hesitant at first, but they quickly see the value that our junior engineers bring to the table. They are supported by the rest of our team, and bring a bunch of fresh energy and perspectives to our clients." 
Looking Forward
Both founders share a similar vision when it comes to the future of both FlowFactor and DevOps in general. DevOps tools are becoming more mature, integrated and powerful, but also more numerous and diverse. 
Kilian: "Though we noticed an extreme increase in the number of DevOps-adjacent terms – like DevSecOps, MLOps, GitOps, FinOps, etc. – for us it still boils down to the same thing: fully aligning your digital operations with the rest of the business. The core mission of DevOps will remain exactly the same in the future."
Johan: "Nonetheless, we do see how certain specialized services are becoming needed by our customers. Luckily, thanks to our approach towards education and knowledge sharing, these needs are also reflected in our employees' skillset. We even have senior members starting their own spinoff ventures: Hieda was created from our cooperation with database experts Monin, and focuses on the data aspects of DevOps. It's spearheaded by two senior engineers from FlowFactor and Monin, which some companies would consider a loss, but for us is one of the most amazing signs we're doing things right!
Kilian: "And then there's also stAIble, our spinoff venture focusing on the next generation of automated DevOps tools. We are now sharing some of our engineers with a passion for automation and AI just like back when we started. The end result is happier people, who can focus on what they love, and happier customers, who get passionate engineers that are proud of their work. So in the end the future will be much the same!"
So there you have it. If you're looking for a company with a clear vision on DevOps with a bottom-up organization structure, look no further! Visit our careers page and check out our open job listings. Of course, if you're looking for a company with a clear vision to bring your own company to the next DevOps level, [get in touch], and let's work on the future of DevOps together!
Join us!